Thank you to @AKnill for highlighting this Twitter concept to me. I guess it's our Twitter version of all those, end-of-year TV programmes that recap all the highs and lows of the year. I just hope, that by opening up to you all, a few private and non-educational points of view, that this post is nowhere near as naff as half of those Channel 5 programmes churned out every year, month and week! So, here goes:
My highlights of 2012:
The first highlight of 2012, without doubt, is my son having a successful, second hernia-operation at the tender age of 1 year old. This was our umpteenth visit to Great Ormond Street Hospital in the last 18 months. For those of you who do not know, my boy was born 3 months premature, at just 1lb 9ozs. He had less than a 50% chance of survival. I am so proud of his blog which has had over 70,000 views for Bliss Charity and Tommy's Baby.
My second highlight of 2012 was securing a permanent job at Greig City Academy after being made redundant in July 2011 at Crest Girls Academy (an EACT chain); plus the additional stress of Freddie (above) being born 85 miles away from home in May 2011. It was an incredibly challenging time… I don't think I will ever take work for granted again; plus all those that moan and groan about our daily existence… I have already switched off and moved on.
Lifestyle: After sorting out the above, my wife and I moved home. With this came a new lifestyle, that was much more closer to our dreams. This was also put in place, alongside the challenges of what come with work, parenthood and childcare. It is far from complete…
Over the summer we decided to stay in London instead of jet-off somewhere distant. This time at home, allowed me to reflect on the wonderful opportunities that Twitter and online blogging provides. It became apparent the my old blog had very limited functionality. It was at this point I discovered an ex-colleague of mine, @HeadGuruTeacher and was impressed with his blog and the aesthetics of WordPress. This led to my new blog here, which has proved to be very successful, since I launched it in August 2012.
Follow @SLTchat every Sunday at 8pm
@SLTchat: after the launch of my new blog, I was inspired to create a new twitter forum for education. You can read how SLTchat started here. I have even impressed myself(!) and delighted to see #SLTchat reach the next phase where other senior leaders take the helm. My thoughts for 2013 remain open…
My first TeachMeet: Last year I put off attending any of these. I have no idea why; but I was delighted to attend #TMEssex on 19.11.12 and have the courage to present. Two minutes was no-where near enough time, but it was a lesson learnt and an enjoyable experience. My presentation is here.
Hosting my first TeachMeet Tiring, but extremely rewarding to bring together 100's of people together to share best practice. I probably wouldn't organise two events within 4 school days again, but certainly relish the hosting and planning. You can read more about what happened at #SLTeachMeet and #TMLondon.
Writing: Redundancy proved to be a blessing in disguise. At this time I was offered my first online article and since then, my writing has escalated. I now have a book planned and continue to write regularly for The Guardian Teacher Network. I now find myself turning down work and honorarium because it is hard to balance this between full-time work and a hobby.
The Olympics and The Jubilee: just brilliant! Having lived in London for over 2 decades, it was just magical for people living in the capital.
Felix Baumgartner: If anything captures my imagination from 2012, this man does! Coincidentally, I led a school assembly about the original jump by Colonel Joe Kittinger. You can view my assembly here and read the book that inspired me, 'The Man Who Touched The Sky'. It is worth every penny!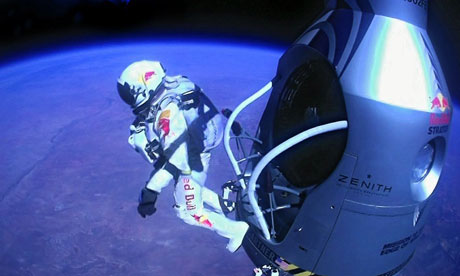 Work: I have never been happier. Thank you to my Headteacher for giving me the freedom and trust to do things my own way. Thank you for giving me the flexibility to trust my own instinct and prompt me where necessary. It is the best form of leadership!
Family: I count my blessings. I have a wonderful wife and a beautiful boy.
My hopes for 2013:
There is no doubt, I would like to secure a Deputy Headteacher position in the near future. This will happen when I am ready and when the opportunity arises. I have been asked to apply for 2 or 3 positions, but did not feel everything was 'right'… Watch this space.
For my son to grow up into a happy and healthy little boy. All the signs from his medical developmental tests show that he is making good progress in line with the average child (you can tell I am a teacher right?). But all I've ever wanted since he was born too early, is for him to be 'average'.
For my wife to be happier at work… Behind every successful man, lies a strong woman. This is so true. Mrs @TeacherToolkit is incredibly strong-willed and determined. She has guided me and held me up when I have most needed it. She is a superb teacher and an excellent Head of Department. She is so ready to be an Assistant Headteacher and would be much better than many I already know… but what I do know, is that she doesn't see herself being a teacher for the rest of her days. My hope is that we find her next step and that this make her as happy as teaching has done for the past 10 years…
Education: I am not a political person, but school leadership has made me much more alert to the changes we have all faced in the past two years. In just the 20 years I have been teaching, we have faced no-less than 11 different Education Ministers! Read what I say about this here. What I am really hoping for here, is that the profession starts to receive a more positive message via the media, and that the politicians start to do more, to help those currently working in schools, as well as those joining it…
#TTkitThunks: Teacher Toollkit Thunks is a small project I started in September 2012. I've set a target of publishing 100 of these short articles, mainly written by other Twitter colleagues. I'm currently up to Thunk number 20. You can read them all here.
TeachMeets: I do hope to continue the success of #TMLondon and #SLTeachMeet. It is a big ask on top of a full-time senior leadership role, but not impossible. I think what drives me here, is bringing together hundreds of like-minded people to share best practice. I am particularly interested in watching how TMs evolve over the coming years and how and when they become the established model for CPD events (in more formal settings).
Family: I have lived over 200 miles away from my immediate family, for over 20 years now. Teaching has provided me with plenty of opportunities to visit them during the holidays. Long may this continue.
1981 – Dundee The McGill boys! (April 2011)
Drink and eat: More water and salad! My favourite food. Unfortunately, this is often blighted by other sweets and savouries.
Cook: I teach Food Technology, as well as 3 or 4 other subjects, but I also love cooking at home. Inspired by my wife, I'd like to do cook at home and teach Food Technology more often! It's good for the soul and surprisingly, an art as well as science…
Writing: I've really enjoyed 2012 for writing. 2013 will hopefully find me writing my first book, and many, many more articles. I'm not quite sure where this hobby will take me, but it's certainly starting to develop into a possible full-time alternative. My aim for 2013 would be to put a piece of work out there, that either reaches the front-page of The Guardian, or other. I'd imagine this piece would have to contain an element of controversy or political fervor to draw the crowds…
Read: I love reading, but I have an awful concentration span. I think around the house, we must have (quick guess) over 2000 books. I'm absolutely certain, I have 200-300 of them that I've started and not finished. So, for 2013, I'd like to find 'one single book' that captures my imagination all over again. I can only recall this happening to me a handful of times.
Twitter: For some reason, Twitter has been phenomenal for me this year. My following has rocketed and the doors and friendships this has created has been incredible. Not on Twitter? You fool! So, for this year, I have simply made this pledge for 2013 to all my followers and for those I have yet to connect with.
Pipedreams: As a young family, we have dreams that are capable of becoming true. Our dream is simple and is shown in this photograph below… Our target is to achieve this within the next few years!
<
p style="text-align:center;">
If you got this far, well done(!) and thank you for reading.
Ross – @TeacherToolkit
Related articles