How can Virtual Reality impact on children's learning?
Virtual Reality (VR) in the classroom has the ability to make learning experiences more 'real' and give students a better understanding of concepts and processes that otherwise would be inaccessible, while only referring to its value as a consumer.
Soon VR will become an experience akin to that which we all had when the TV was wheeled into our classes all those years ago!
Buzzword?
Keeping with the 'trad-prog' debate, some are denying it's educational value before it has even been realised. VR has been trending as a buzzword and by some has been unfortunately mistaken as a fad.
Currently early adopters are still finding their feet. The technology is far from a finished product, but most importantly some companies are actively engaging teachers to find out what it is that we need, and helping to identify obstacles and impediments to a smooth learning environment.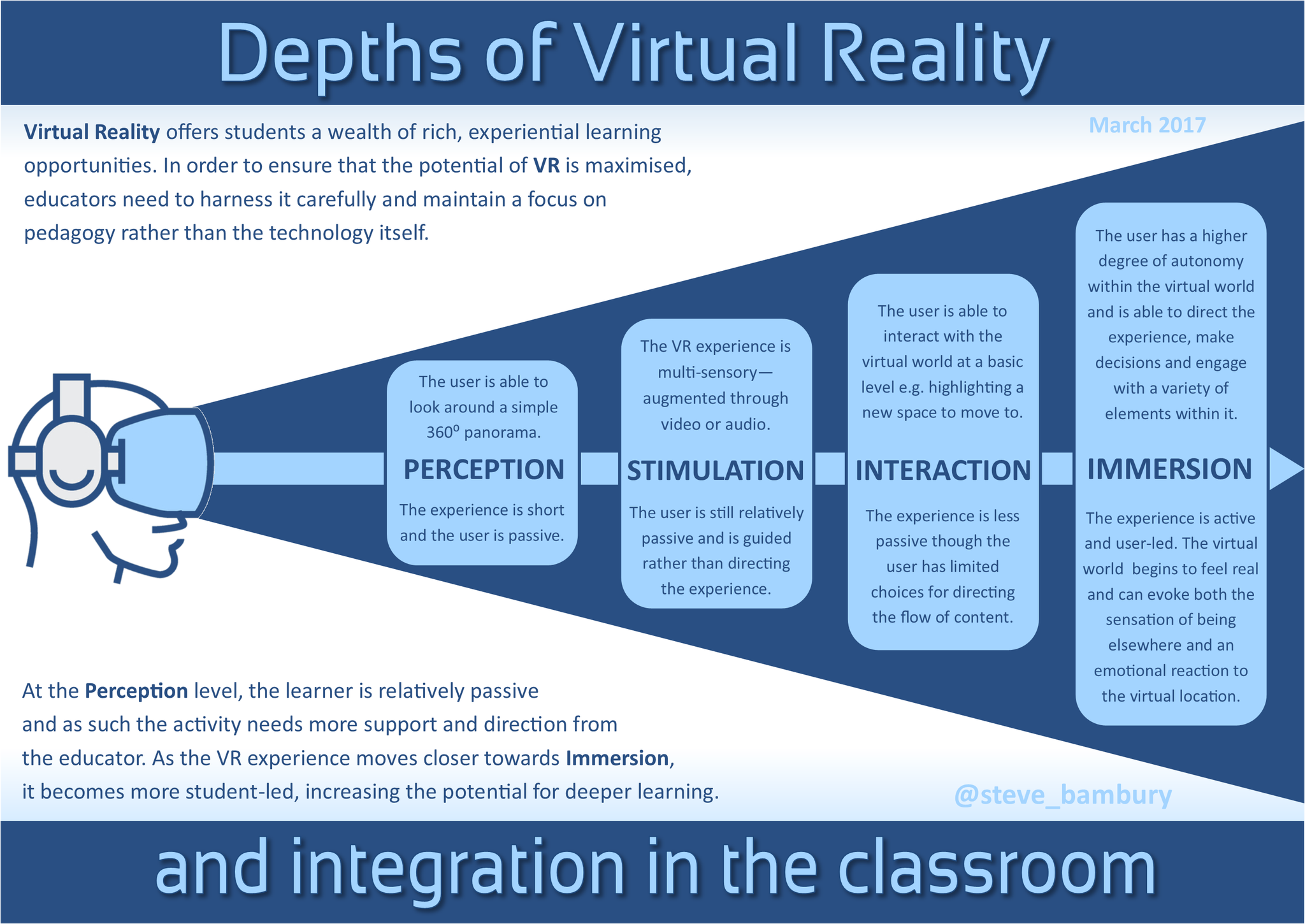 Image: from @steve_bambury
It is this pro-active approach from developers and teachers alike which is needed to ensure that VR realises it's educational potential.
Useful Apps
As consumers of VR we have an already wide array of useful apps. For example, Google Expeditions; the perfect entry-level user-friendly VR application for educators.
Open the app, pick an expedition as a guide and control the full experience: brief narrative and cross-curricular links. This allows for a fantastic learning experience guided by the teacher. You don't even need to have a VR headset or Google Cardboard-use your phone or tablet to pan around the 360 images. This is fantastic for schools who already have a bank of tablets, however it lacks the full immersion which the VR headsets give.
NYTVR: the New York Times also has it's very own VR application which is updated daily with new experiences.
This application is more suitable to older students as there is much less control on the teachers part, and many of the themes explored are for more mature audiences. Meditation Journeys, like many VR experiences has several cross-curricular links to take advantage of. I found having the volume off for these experiences works best in a classroom environment, otherwise the learning objective may become a distant memory.
There are many apps which teachers can use as stimuli, to help investigate a complex process, or for social investigations.
However, the question which needs to be asked is whether VR deserves an investment just to be a glorified video?
Research:
If we take a moment to look at Dr Ruben Puentedura's SAMR model (Substitution, Augmentation, Modification, Redefinition) for using technology in education, VR so far is broadly only being used to 'enhance' learning.
Image: Ruben R. Puentedura's Blog
Watch a video explaining the SAMR model here.
We have seen steady progression in our classrooms from simple images to videos, and now VR. This stands as merely tool substitution with some functional improvement. It creates excitement and engages learners, however as Nic Ford rightly points out in his blog The Educational Potential of VR, engagement is a poor proxy for actual learning.
The true value of VR for education will be found with the transformational aspects of SAMR. Engage higher order thinking skills by getting students to create VR experiences  to truly innovate and transform learning .
CoSpaces is helping redefine learning using VR. CoSpaces is a student-friendly VR experience maker. Learners now have the opportunity to not only consume but create their own VR experiences, utilising a wider range of cross-curricular themes, redefining what we can do in our classrooms.
Students can create 3D environments and experiences on computers or tablets with unlimited possibilities right across the curriculum. There are two ways which using CoSpaces has already significantly impacted students learning: Blockly coding enables students to bring their creations to life, while using Google Street View anyone can capture and import a 360° photo.
CoSpaces is a fantastic platform and I am eagerly awaiting the release of CoSpaces Edu, which will have extra features specifically designed for use in the classroom.
While the educational value of VR is still up for debate, my mind is made up! VR will have its place in education in some way or form, however, as of yet it has not found its optimum guise. This is still a work in progress and should be treated as such.
So, do you want to help transform education, or sit back and point out its weaknesses?