Firstly, this is not a model, just an experience…
Ofsted background:
…Throughout my teaching career, I've been part of 5 Ofsted inspections, dating back to 1997 as a class teacher, and most recently in 2011, my second as a senior teacher… When starting my current school, Oftsed had departed the day before!
n.b. this was written in 2012 and will not be in line with latest Ofsted guidance today.
My wife, after 11 years of teaching has only been 'subject to Ofsted' once, but I'm sure some teachers across the country have averaged one every 2 or 3 years! My average is every 4… On each of the occasions I have 'been done to', the framework has changed and so has the experience; alternating from reply-slips and no-comments from the observing inspector, to a broad smile, coupled with detailed feedback and a reciprocated pair of ears. The experience in all, has been a mixed-bag, full of dread and of interest…
Believe me, I have received all levels of judgements throughout my career.
What I've been up to:
In my role as lead for Teaching and Learning, we have started a series of six-paired 'rounds' of learning walks and paired feedback observations. ENTIRELY VOLUNTARY and developmental for everyone involved. What I intend to do here, is briefly describe my own experience and support this with more detailed plans that are due to be published on The Guardian Teacher Network this week… (link here)
The following training has been completed with trained Ofsted inspectors @HeatherLeatt, @LornaChampCork and John Beighton.
My Lesson Observation:
Daring as I am, I really fancied taking a risk and using this CPD opportunity to test the water. I left the actual planning of the lesson to the morning itself! (Wednesday 14th November 2012) Why? Because a) it was the only free time I had! b) I was incredibly busy organising the two days of observations and feedback for all other staff involved and c) with my other teaching and leadership commitments, plus a very young son at home, working late into the night is no longer possible and something I have more and more, refused to do. I simply have to work smarter! Despite this, the 'planned' lesson had been spiraling around my head for a number of days prior to the Ofsted observation described below… I knew what I wanted the students to achieve.
Here is a picture of my actual lesson plan: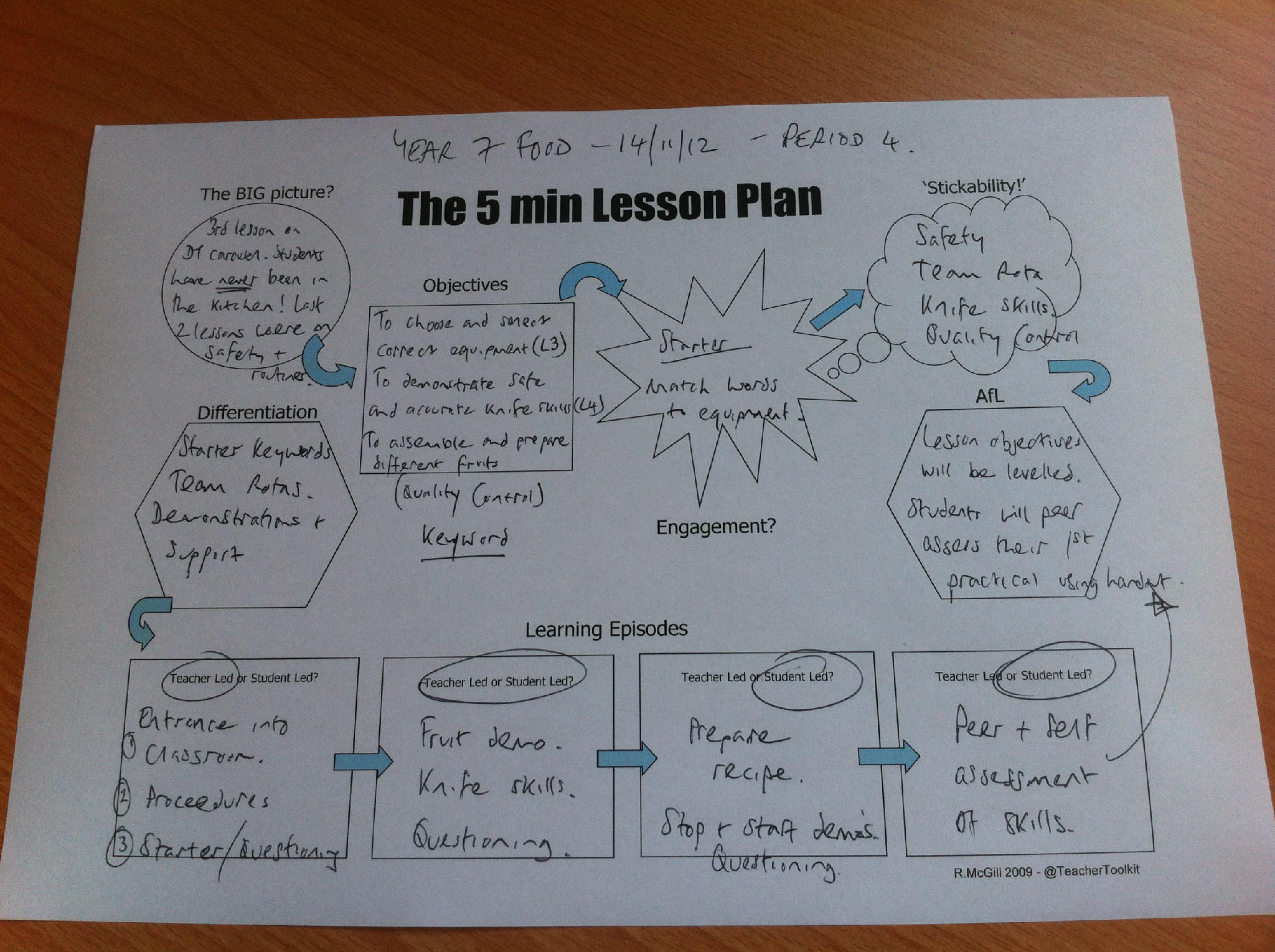 Please note – I have not described the whole lesson in its entirety, and reflecting on the experience will only be a small snapshot to actually what happened in the lesson…
The lesson plan above, was an outcome from less time spent planning and from a document that was (in a earlier incarnation/format) passed onto me, by the almighty @JohnBayley1. My lesson plan was supported with a simple seating plan, alongside scribbles of current levels of attainment by students in the subject. As a context, this was the students' 3rd lesson in Food Technology ever! As standard practice, I also provided my colleague and the Ofsted inspector on this occasion, @LornaChampCork, with a copy of the resources being used. (*please note, Ofsted do not require a lesson plan, but 'evidence' of a planned lesson. Go figure!?)
My resources included a self and peer assessment worksheet to be used during the lesson, plus a copy of quintilingual keywords to be introduced to students.
Having taught the first 2 lessons in another classroom, (a DT workshop to be exact, due to timetabled restrictions!), students arrived – admittedly, chaotically into the classroom – trying to establish their own understanding of the new routine for coats, bags, books and aprons! This was all under the gaze of the inspector. Even after all my years of experience, I was trying hard to stay calm…
"Aprons on! Wash your hands! Roll your sleeves up! Meet me at the front table", I bellowed.
No sooner had students gathered around the front table, I had to stop myself from scribbling the three differentiated objectives up onto the whiteboard. A prompt starter activity kicked off – matching keywords to today's equipment – ensued in no-less than 5 languages to cater for literacy needs in the group. This was followed with a short 5-minute teacher-student-teacher led demonstration, particularly focusing on students with low-attention to engage their understanding. I only knew this as the demonstration evolved… as having only taught them twice before, I barely knew their names, never mind their behaviour. My strategy was simply reactive to the situation. It worked(!) and I can only say that this style of teaching-management comes with experience…
It was at about this point, that I started to employ my favourite AfL questioning strategy, Pose, Pause, Pounce, Bounce! You can read the full details and directions of how to do this in The Guardian article here, or you can click this link to see how to question your students, according to Winnie The Pooh characters.
After the fruit-salad quality control demonstration, students departed from the front desk to move about the classroom and set up their team areas. Team-rotas in hand, with descriptive roles to play in small micro-kitchens, students spent the next 3 minutes sourcing equipment and placing their ingredients out carefully – as asked – onto their preparation tables… Meanwhile, (10 minutes in), I finished writing up the differentiated lesson objectives onto the board in a matter of seconds!
"Right! Meet me around (student's name) table, at the back of the room in 30 seconds…"
….and so the lesson continued, with students referring to objectives; team-rotas, prior-learning and their self assessment worksheets. Pace was high and (all) the students appeared to have started to make good progress.
My colleague and inspector left the lesson 30 minutes into the lesson. I'd be lying if I didn't breathe a sigh of relief…


My Lesson Feedback:
Feedback took place (as timetabled) at the end of the lesson in a quiet office. My colleague was being observed by @LornaChampCork giving the feedback to me. This forms part of the process we want to encourage to ensure quality, consistency and accuracy…
The word 'good' was used often. As lead for Teaching and Learning, we try to encourage all staff who feedback, to withhold judgement until the middle-to-end of the session. I'd also now like to add, that avoiding any kind of terminology closely related to the framework is best avoided, but almost entirely impossible! This is quite simply because, you must support your comments with evidence, not terms such a 'good' or 'outstanding'.
It was healthy for me to be on the receiving end of feedback. After completing over 100 observations in the last academic year alone, it is essential that I am also part of the entire process. We can all deny it, but the final judgement is how we are judged and almost all we want to hear! Of course, I argue too, that we should all be reflective and open to develop areas of teaching and learning in our own classroom.Therefore, we should do our best to hear beyond the judgement made.
The judgement must be supported by evidence and rationale, entirely focused on the 'learning', not the teaching. I know you know that, but what you may not know, is that any feedback must be supported with a specific teaching and learning CPD target… that could possibly be linked into your own appraisal if applicable.
I've included a tweet below from @LornaChampCork below and the official observation proforma for my school, which I have adapted to meet the requirements of the new Teacher Standards and the new Ofsted framework. This has just been uploaded onto @TESResources here.
and the formal observation used for this lesson is show below. Click the picture to download the full 3 page document.
The form can be download off the TES at the following address: http://www.tes.co.uk/teaching-resource/Lesson-Observation-template-Sep-2012-Ofsted-6301548/
I will update this post as I reflect on the lesson, the process and this actual post!
Related articles